HUSKEE: Creating reusable coffee cups from coffee husk waste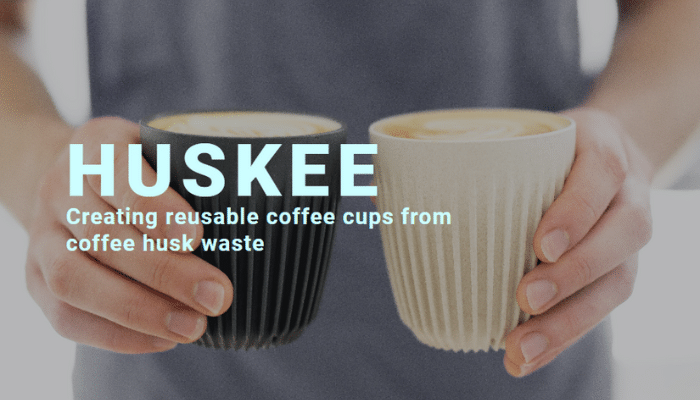 Did you know that for every kilogram of coffee beans produced, approximately one kilogram of coffee husk waste is generated?
Huskee converts waste coffee husk into a unique biopolymer which is the material used to create their HuskeeCup range.
They have two specialised programs called HuskeeSwap and HuskeeLoop, which help venues eliminate single-use cups at their source and also buy back old cups to turn them into new products respectively.
Around 2.67 million Huskee cups have been sold in 57 countries, which has prevented 600 tonnes of coffee husk waste diverted from landfill.
Did you know that for every kilogram of coffee beans produced, approximately one kilogram of coffee husk waste is generated?
Coffee farmers today deal with hundreds of tonnes of husk waste at the farm, where piles become increasingly harmful, attracting pests and diseases. But one company called Huskee is tackling this waste issue by converting husk waste into coffee cups. Through elegant designs, their cups are even easily disassembled and recycled at their end-of-life, forming a completely closed-loop system that is solving waste problems, both at the café and the farm level.
We sat down with Saxon Wright, CEO and co-founder of Huskee, to talk about their unique coffee cups and how they are joining the circular economy one step at a time.
WHO
"When coffee is processed, the skin and fruit are removed, dried and then finally the husk is hulled off. This husk is converted into a unique biopolymer by us that forms the basis of a range of different products, most significantly our HuskeeCup. The cups are used by cafes, corporates and consumer B2B markets. However, part of our solution really is to think more broadly about waste. One of our core missions is to work towards eliminating single-use coffee cups, of which there are billions going to landfill every year. So, we have created two systems, HuskeeLoop and HuskeeSwap that enable and support venues and their customers to eliminate single-use cups at the source."

VISION
"Recycling cups after their end-of-use, whether ours, others' or even single-use, is an issue, as we clearly see that recycling is often not very effective and must be a lower priority in the circular economy. We must become better product stewards. Huskee wants to demonstrate what is possible, to prove that being circular can be profitable and that you can run a successful business whilst working towards reducing waste and being a good steward of your own products."
"Personally, I have a deeply held belief business can have a positive impact on the planet and be used for good. Although, there is only so much that we can do on a personal level. Through business, we can accelerate positive change and foster behaviour change to create a different type of world. Business is a tool that is bigger than what we can do on our own."
"With the circular economy, it is imperative for us to think about the bigger picture. We can't just think about singular systems. We must live with a certain level of comfort around managing complexity to solve problems that are bigger than ourselves to achieve something different and better."
HOW
Our business consists of three core activities:
HuskeeCup: Made from waste coffee husk and designed to be elegant, durable and desired by both the consumers and venue staff. They are available only in two neutral colours to ensure ease of repurposing at their end-of-life through the HuskeeLoop program.
HuskeeSwap: Our unique opt-in and low-tech reusable cup swap system, is designed to enable venues to easily transition away from single-use takeaway. This program is App supported with no ongoing costs. The program supports targeted uptake and scale through partnership activations.
HuskeeLoop: This is our buyback process, where we buy old, damaged cups from our customers in exchange for credit, through collection centres and turn these into new products. Our products have been designed to disassemble and recycle easily at low costs to keep the economics of recycling strong enough that it's just as viable to produce from used cups as it is from virgin materials.
OVERCOMING CHALLENGES
We didn't start with a known or proven material but rather developed our own material from scratch using a waste product, which is why dealing with international compliance has been challenging. It required a lot of research into knowing how to manufacture the cups so that they were internationally acceptable in terms of their design, manufacturing and food safety standards. Each country has very different requirements which bring about various challenges to navigate through.
We work with cafes, corporates, universities as well as individuals to help them with the uptake of the Huskee programs. Each stakeholder has their own requirements. We need to make the process as easy as possible for venues to communicate the program to their customers; whereas with corporates everything is usually very data and dollar-driven. All our customers require ongoing education, behavioural change and communication to make our mission as relevant as possible for our stakeholders. Inculcating our HuskeeSwap systems to replace single-use is challenging with reuse systems at scale still in their infancy; we are constantly learning and evolving every day.
To contribute to the circular economy, businesses need to understand what it means to be circular. Is it product stewardship? Is it solely a waste issue? Is it internal or external circularity? Identifying and understanding where you fit in this space is crucial.
RESULTS + BENEFITS
"One of our main achievements was producing a cup from waste. The amount of work that went into designing and developing a product with our own material from a waste source was a significant undertaking, and creating a material that can be repurposed at the end of life as well was huge."
"We are seeing a global impact and sales growth (statistics until September 2022):
Around 2.67 million Huskee cups are sold in 57 countries
600 tonnes of coffee husk waste diverted from landfill
Over 1.6 million single-use cups eliminated through the HuskeeSwap program"
"We have been able to share our story broadly and inspire people to do better. We've done presentations at the Powerhouse Museum, have been featured as a case study at Cambridge University and have activated over 30 key partnerships both in Australia and abroad."
"We are targeting a 90% return rate for products at the end-of-life for reuse. The tricky part with that goal is that our products are lasting longer than we anticipated, which is a good problem to have, but it makes that metric difficult to measure. We've also made new products such as dog bowls from the material and other cups already returned. We would also like to see our HuskeeSwap system expand and localize our HuskeeLoop program with key distribution partners."
"Finally, we are already a proud B-Corp certified company and continue to work to reduce our carbon footprint produced through shipping and manufacturing and have recently managed to make our shipping carbon neutral."
This article was brought to you by the Australian Circular Economy Hub.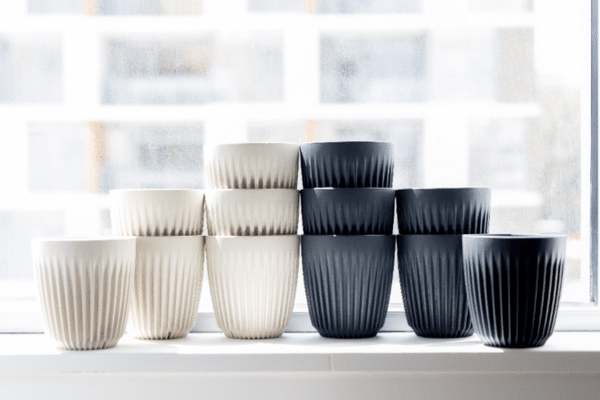 THE ACE AWARDS 2023
Nominations are open for the 2023 ACE Awards! In its second year, the ACE Awards, brought to you by Planet Ark's Australian Circular Economy Hub (ACE Hub), will honour the achievements and success of trailblazers at the forefront of Australia's circular transition. Learn more about the awards here and submit your nomination today!