Circularity Conference 2023 to Drive the Implementation of a Circular Economy in Australia and Asia Pacific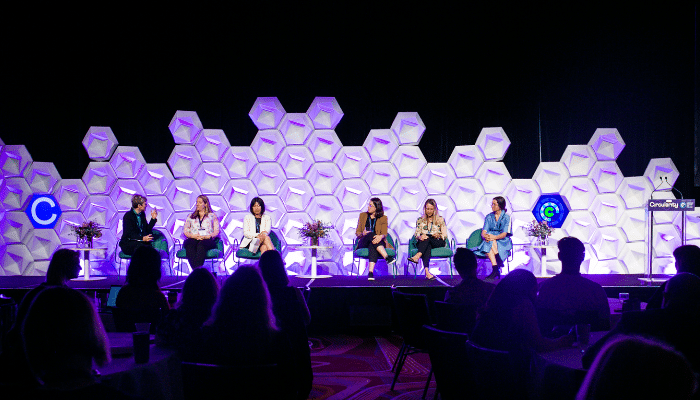 The Circularity Conference is back for 2023 to drive actionable change towards implementing a more circular future, and will be held at the Grand Hyatt, Melbourne, on November 20-21.
The two-day conference in Melbourne will cover the latest trends and topics in the circular economy, including maintaining the balance of nature, exploring fossil fuel-free energy alternatives, implementing systems and behaviour change for a circular transition, and more.

Keynote speakers include leading names in sustainability, including international keynote Dr. Janez Potočnik, Co-Chair and Partner, United Nations Environment Programme (UNEP), and leaders from the Commonwealth Bank of Australia, City of Melbourne, Coles Group, and more

2023 ACE Awards to celebrate changemakers driving the transition to a circular economy in Australia and APAC; winners to be recognised at a celebratory event on the first day of the conference.


 
Melbourne, October 5 2023: With sustainability at the forefront of businesses' and consumers' minds more than ever before, the Circularity Conference is back for 2023 to drive actionable change towards implementing a more circular future, and will be held at the Grand Hyatt Melbourne, on November 20-21. 
Presented by Diversified Communications in partnership with Planet Ark's Australian Circular Economy (ACE) Hub, Circularity encourages sectors with the greatest environmental impact to rethink the whole supply chain and systems design and maximise sustainable development. According to James Griffin MP, former Minister for Environment and Heritage, NSW, a circular economy approach in the built environment alone is estimated to deliver around $773 billion in direct economic benefits across Australia over 20 years. 
On top of its economic benefits, an Ellen MacArthur Foundation study shows that by using circular business models, 45 per cent of global emissions can be reduced, thereby reducing the impacts of climate change. 
Nicole Garofano, Head of Circular Economy Development at Planet Ark Environmental Foundation, said: "A circular economy is a tool to achieve sustainable development, and globally, we are facing a triple environmental threat – biodiversity loss, pollution, and climate change. Each carries its own yet interconnected importance as part of a system. As a species, we extract more than 100 billion tonnes of material yearly from our planetary resources. This unsustainable rate creates breaking points for the earth's ecosystems. 
"The 17 sustainable development goals, including addressing Climate Action and the need to decarbonise, will assist in resolving the triple environmental threat and can be achieved by adopting circular business strategies. These strategies include reducing ownership of products and instead using a product as a service, like carsharing, for example – the product is a car, the service is mobility," Ms Garofano continued. 
Covering a comprehensive range of topic areas, sessions for this year's conference will discuss the financial sector's role in fostering innovation in a future circular economy, how architecture and construction industries can adopt circular business models, embracing sustainable reuse and regeneration, and the critical steps of a 'behavioural science approach' in achieving a circular economy.  
Featuring keynotes from an array of business leaders and respected sustainability experts, including former European Commissioner for Environment Dr. Janez Potočnik, Co-Chair and Partner of the UNEP International Resource Panel, the 2023 Circularity Conference will inspire conversations and action towards a circular future for Australia and the Asia Pacific. Other keynote speakers include:  
Andrew Hinchliff, Commonwealth Bank of Australia, Group Executive Institutional Banking & Markets

Lord Mayor Sally Capp AO, City of Melbourne

 

John Thwaites AM, Circular Economy Ministerial Advisory Group

 

Scott Valentine,University of Brunei Darussalam, Professor of Entrepreneurship and Circular Economy

 

Valentina Petrone, WSP, Associate Director – ANZ Circular Economy Lead

 
View the complete list of conference speakers here. 
Dr. Janez Potočnik, Co-Chair and Partner, United Nations Environment Programme (UNEP), said: "Circular economy should be seen as an instrument for delivering decoupling of economic growth from resource use and environmental impacts in practice, as well as a part of the bigger picture of economic, societal and cultural transformation needed to deliver the Sustainable Development Goals (SDGs)." 
This year's Circularity Conference will also celebrate the winners of the 2023 ACE Awards, brought to you by The Australian Circular Economy Hub (ACE Hub), which recognises the individuals and brands driving Australia's transition towards a circular economy through their products and initiatives. Award winners will be announced at a celebratory cocktail reception on November 20.  
Attendees include business and government leaders, circular economy practitioners, academics, and sustainability professionals. Members of the general public interested in a circular future are also encouraged to join the discussion and attend the event.  
Circularity Conference 2023 is sponsored by Bingo Industries, Circular Economy Victoria, Coles, KPMG, Melbourne Convention Bureau, Sustainability Victoria, Tetra Pak, and Visit Melbourne. 
For more information, visit: https://circularitylive.com.au/  
Media contacts 
About Diversified Communications  
Diversified Communications is a third-generation, family-owned business dating back to 1949. Since then, they have grown from a single radio station into an international media company, with the Australian division born in 2000. Diversified Communications Australia has acquired a number of key independent brands across the food, energy, building, and security industries. 
Recent additions include brands from the luxury travel, technology, natural and organics, and marketing industries. With a total of 13 media brands across eight industries, Diversified now has offices in the United States, Australia, Canada, Hong Kong, and the United Kingdom.  
About Planet Ark 
Planet Ark Environmental Foundation is an Australian not-for-profit organisation with a  vision of a world where people live in balance with nature. Established in 1992, it is one of Australia's leading environmental behaviour change organisations with a focus on working collaboratively and positively. Planet Ark promotes and creates simple, positive environmental actions – for everyone.  
About ACE Hub 
The Australian Circular Economy Hub (ACE Hub) aims to be Australia's go-to resource for circular economy, providing companies, individuals and communities with the tools and education to help implement circularity.