ACE Awards 2023 Honours Australian Organisations and Individuals for Achievements Towards a Circular Future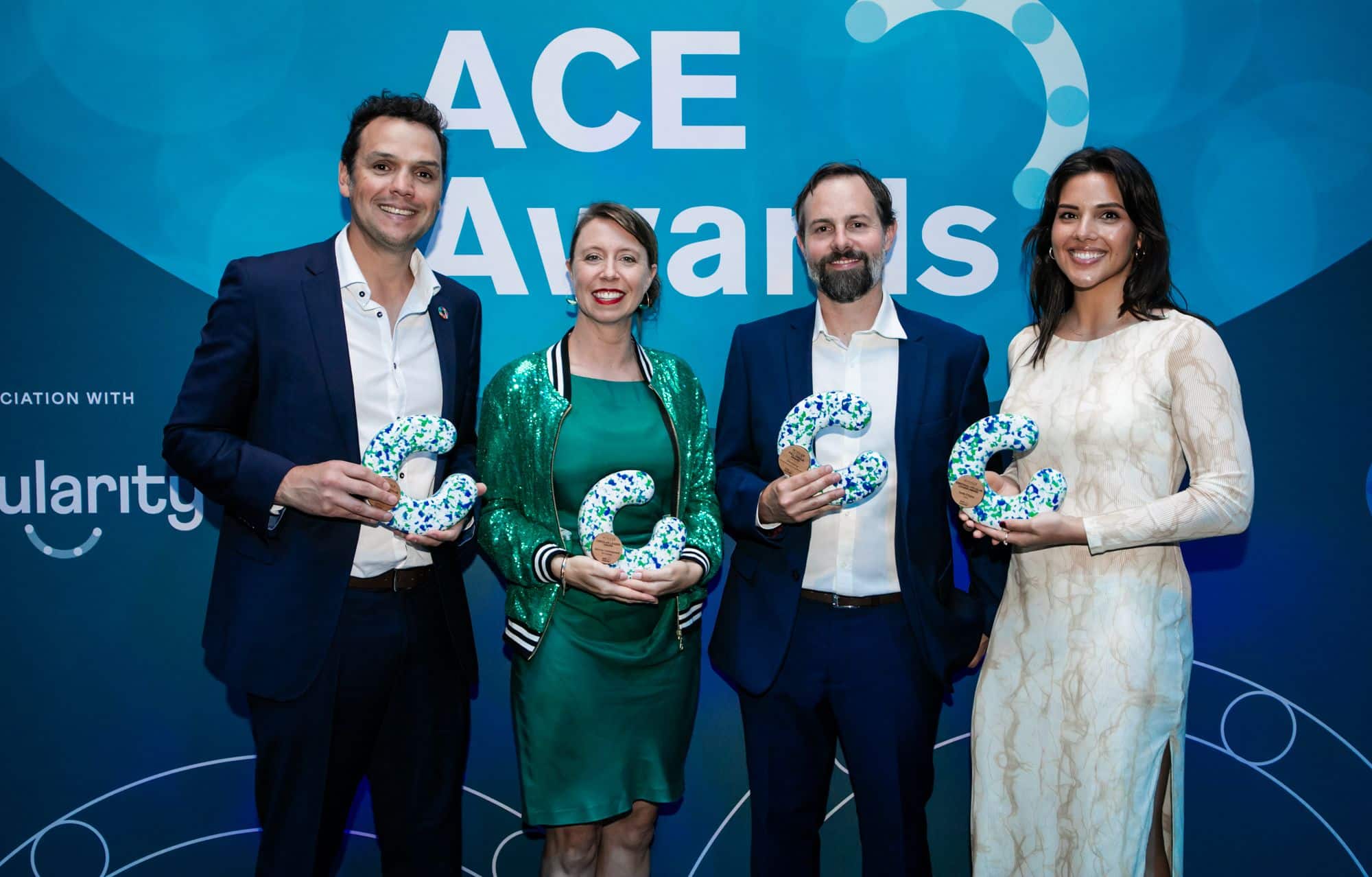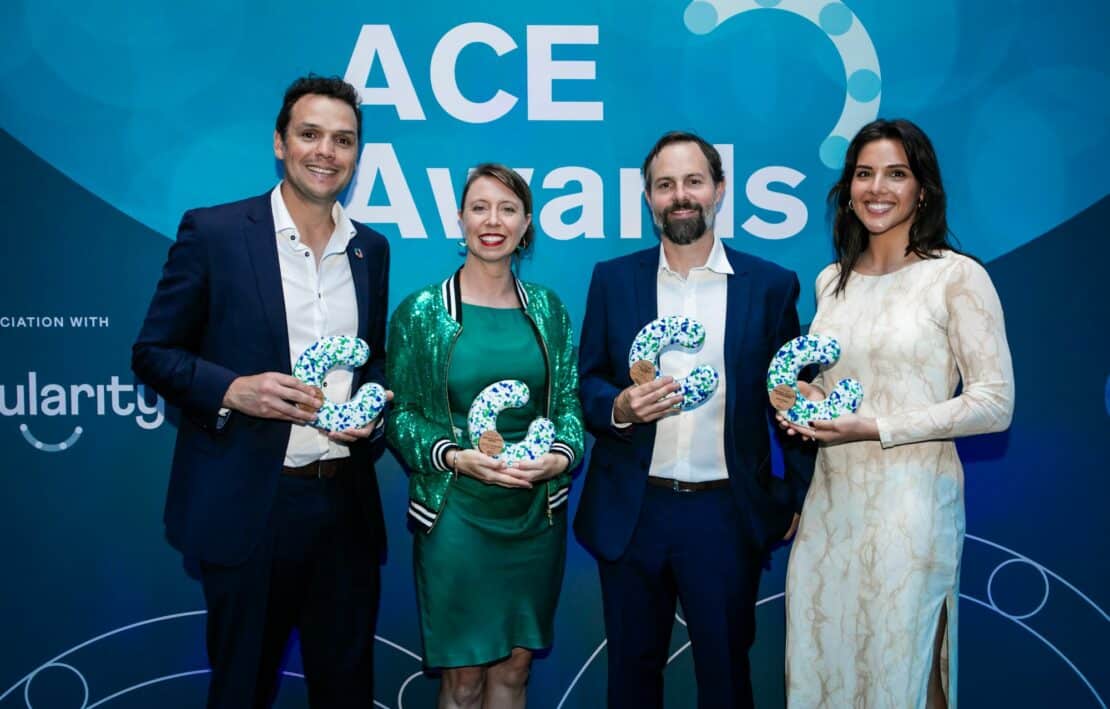 Last night, The Australian Circular Economy Hub (ACE Hub) and Diversified Communications Australia announced the winners of the 2023 ACE Awards, which recognises Australian organisations and individuals moving the needle towards a more circular and sustainable future in Australia and APAC by spreading awareness, innovating and implementing change.
The awards were presented to the winners at the 2nd annual ACE Awards celebration ceremony held in Melbourne and hosted by Costa Georgiadis.
The awards consisted of the following five award categories, and winners were presented awards made by Defy Design, a Sydney-based company that specialise in designing and manufacturing impactful products made from plastic destined for landfill. The following are the finalists in each category and the winning individual or organisation.
Full Circle Award
This award recognises and celebrates a systems approach and consideration of all three principles of the circular economy. Projects demonstrate incorporation of all three principles using one or more circular business models and are proven solutions in their sector/industry/supply chain.
Finalists:
Adetex.CS,

Circlolink. Circular Digital Product Passport via RFiD THREADS® and CIRCAA Cloud Platform

Boomerang Labs,

Boomerang Labs: Australia's first circular economy startup accelerator

Modibodi,

Recycled Pairs Project

FOUND:ling Reusery,

A New Approach To Value-Add Reuse 
Winner: Circonomy & Mirvac, Circularity Transforming Business
Mirvac and Circonomy collaborated on a joint mission to transform office spaces, unlock new social procurement opportunities, and make a positive social and environmental impact. As a certified social enterprise, Circonomy works to repair, refurbish and rehome products, instead of sending them to landfill which has financial and environmental benefits. 
An estimated 145,000 tonnes of strip-out waste is generated annually in Australia, with up to 80% ending up in landfill. Mirvac's vision was to repurpose vacated retail space within one of their 46-storey A-Grade commercial office towers, avoiding landfill and reusing materials as much as possible. 
Emerging Circular Leader Award
The Emerging Circular Leader Award recognises leaders that are 35 and under who, through their impact, have demonstrated the potential of a future circular economy in Australia and sparked forward-thinking ideas within their industry.
Finalists:
Adele Lanson, Head of Production and Ethical Sourcing, Cargo Crew

Jess Hodge, Co-Founder, Resourceful Living

Matthew Askeland, Victorian Environment Lead, ADE Consulting Group

Rae Knopik, CEO, GREN

Dr. Yassie Samie, ESG & Sustainability Manager and Early Career Researcher, RMIT Alumna; Leaf Group
Winner: Sarah D'Sylva, Circular Design Strategist, Hyloh
Sarah's business, Hyloh, embraces the principles of circularity by challenging the idea of sustainable materials, advocating instead for a systematic approach to materiality within the circular economy. Hyloh operates transparently, fostering global collaboration, and is 100% minority-owned, addressing the unique needs of women. As a design educator at Monash University, Sarah imparts her insights to nurture circular design thinking among future designers. She spreads awareness about circularity and social enterprise through presentations and panel discussions, public webinars and other educational materials for kindergartens and elderly communities. 
Circular Leader Award
This award recognises an individual, company or organisation that demonstrates inspirational leadership and experience in progressing circular economy practices. Shining a light on those who have not only championed circular economy practices but have achieved significant advancement and continue to actively strive for a more circular future.
Finalists:
Brett Henderson, Chief Collaboration Officer, Brett Henderson Co

Hayley Jarick, Company Secretary and CEO, Supply Chain Sustainability School Limited

Jennifer Macklin, Senior Research Officer, BehaviourWorks Australia & Monash University

Karie Soehardi, Director, Sustainable Materials Specialist, Circular Design Thinking
Winner: Belinda Chellingworth, Director, BC Consulting
From her early 1990's career, Belinda championed circularity by actively doing, not just talking. This included reusing Horse Race Times TAB paper from her pub job to write Uni notes, and ensuring the BBQ chickens at her deli job were sold and not binned. From teenagehood, she chose to value materials.
Belinda has led the circularity portfolios for large and influential organisations, including the London School of Economics, the GPT Group, Australia Post and ALDI AU. Now Director of BC Consulting; a trusted circularity advisor to the property, retail and logistics sectors; she makes circularity broadly accessible, and never boring. 
Retaining Value Award
The Retaining Value Award recognises those who are successfully keeping products and materials in use and at their highest value – a core principle of the transition to a circular economy. 
Finalists
Good360 Australia,

The Circle of Good – Ensuring brand-new goods receive a 'first life' in the hands of people in need, making a positive social impact whilst reducing waste.

Transmutation Pty Ltd,

Breadtags to Bar Chairs

Yume Food Australia,

The Yume Platform – Managing Surplus Food at Scale 
Winner: Cobram Estate Olives Limited, Reimagining Farm Waste to Create Value Adding Product
Cobram Estate Olives Limited shifted from producing only extra virgin olive oil to converting their olive by-products (leaves, pomace, pits) into new value-add products (renewable biofuel, olive leaf teas, health extracts, compost). By maximising the value-add of by-products, they now use olive leaves and extracts to create health and nutrition products under their Wellgrove, and Stone & Grove brands. They also use olive pits as renewable energy for their boilers, and the surplus is sold to other companies. 
Design for Circularity Award
The first principle of the circular economy is "Design out waste and pollution" in recognition of the fact that waste and pollution are largely a result of the way we design and manufacture products. The Design for Circularity award category celebrates new and innovative ways to design out negative impacts through intentional design and smart manufacturing processes.
Finalists
Little Bums, Big Impact,

Little Droppings

Coles Group,

KOi Refillable Foaming Handwash Starter Kit and Refill Tablets

FOUND:ling Reusery,

Design from Reuse – Product Development From Unwanted Goods
Winner: Modibodi, Biodegradable Period Pant
Modibodi started the period underwear movement in Australia ten years ago. It took the whole of 2021 and an enormous amount of blood, sweat and science to design the world's first biodegradable leak-proof underwear. Designed by their Product and Sustainability teams in our HQ in Sydney and tested at the Royal Melbourne Institute of Technology (RMIT) using the ISO 11721-1:2001, Biodegradable Test, the biodegradable period pants were launched in January 2022. The underwear is 97% biodegradable and aims to tackle the problem of single-use period products, which generate high amounts of waste.
The ACE Hub and Circularity extends its congratulations to all finalists and winners for their valiant achievements in creating a more circular Australia. For more information on the movement towards a circular future in Australia and APAC, visit acehub.org.au and subscribe to Circularity for more updates.