2022 ACE Award winner is Pioneering underwear recycling in Australia
Underwear is not often thought of as a potentially circular product. After all, who wants to wear someone else's used underwear? However, the way we currently use and dispose of our underwear leads to a massive waste of precious materials.
A lack of recycling infrastructure in Australia makes it difficult to consider alternative ways to salvage used underwear, in addition to the hygiene restrictions associated with donating them. Recycling textiles in general can also be a tricky business, given the complexity of materials used in them, often making their lifecycle a one-way street. That is not the case anymore. Social enterprise Underwear for Humanity is asking Australians to send back their old underwear to be recycled and help put an end to the waste being generated from over 204 million underwear items imported into Australia every year. We spoke to Kelly Barrett, Founder and Sustainability Leader of Underwear for Humanity, on her pioneering bra and underwear recycling program and their goals to make the textiles industry regenerative.
WHO
"I have been an underwear designer for 20 years and have built three successful underwear businesses, including Starcorp Textiles, Silent Arrow and the latest one being- Underwear for Humanity."
"Underwear for Humanity has created an innovative sustainable product, and the first in Australia recycling scheme for underwear. Undies go to insulation and bras are broken down to extract valuable components such as metal, foam and finally course yarn is made from the fabric for blankets. Anything that cannot be reused goes down the same pathway as underwear – insulation. Of course, re-use is always best, so we inspect bras that are sent in and any that are in good condition are donated to Support the Girls."
"Our aim is to draw as much value from our products as possible and keep them in circulation as well as enrich the lives of others along the way by providing an income stream to other social enterprises."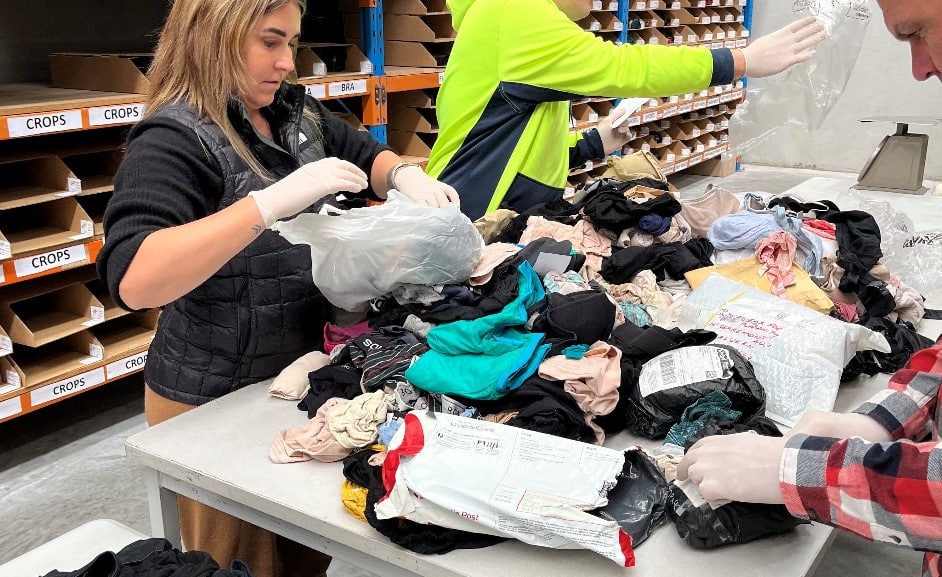 VISION
"Underwear for Humanity's role is to make visible what can be possible when money is not the only driving force for businesses. Our vision from the very beginning is to make every Australian aware of the power of their purchases."
"We are currently using 1.8 planets' worth of resources globally and if everyone lived as we did in Australia, it would be a total of 4.5 planets. Something needs to change fast, but it isn't happening fast enough."
"Some of the biggest challenges in underwear recycling are due to the different materials and components involved. Underwear has a blend of fibres as well as elastic, care labels, cotton gusset, thread and has hygiene hurdles. Bras include metal wire, laminated polyurethane foam with polyester, nylon, elastane, lace and can be made of up to 26 different components. They are definitely complex."
"Almost 204 million underwear items are imported into Australia every year, with no avenue besides landfill. So, we started with what we know, undies. Yes, they are little, but they are powerful. Anything can be powerful if it has the right intention behind it."
HOW
"It is not enough to just 'lower our footprint' – we want to actively regenerate the planet and shift industry practices. On top of being uncompromising in sourcing the right materials and reusing waste in our manufacturing, we have also implemented a reuse program and pioneered underwear recycling in Australia. Our projects include:
The first part of our business involves developing sustainable underwear and bras that are also socially regenerative. We spent years researching the materials in our range and visited trade shows around the world since 2015 to find mills and suppliers to collaborate with. Our materials include recycled nylon seam free yarn, recycled elastic using recycled elastane (which we developed ourselves), Tencel (which is a regenerated fibre made from the eucalyptus tree), and a new regenerative cotton project."
"Currently, with the limited infrastructure within Australia, we make our underwear ethically in China. This doesn't mean that we do not want to eventually manufacture in Australia – we continually investigate ways to use sewing as training and hope that in the future local manufacturing can be a reality. Our prices assist us in creating an added layer of impact through our social programs like the one-for-one underwear donations, helping Indigenous communities with rent, training programs and offsetting our carbon."
"We also take back all underwear, of any brand, any fabric and for free. Customers can send their old underwear via post after ensuring that they are washed. It costs a lot to recycle; the sales of our underwear range help cover some of those costs."
"As a social enterprise still in its infancy, we currently only offer this service to our existing customers (who purchase our recycled material underwear); however, we aim to open this service to everyone as our business grows."
RESULTS + BENEFITS
"Since our launch in July 2021 to March 2023, we have been able to:
Divert 7,632 items from landfill (including 5,875 undies and 1,757 bras)
Receive $51,262 worth of underwear as part of the one-for-one program
Avoid 5,659 kg of carbon emissions vs industry standards
"Besides our environmental impact, we are always striving to be socially regenerative too. As a social enterprise, this has been achieved through underwear donations for people experiencing vulnerability, rent payments to Aboriginal initiatives as well as work-training partnerships. To date we have:
Donated 14,919 undies, equating to $51,262 in valuation
Trained six people through our work-training program"
"Transparency in the fashion industry is an ongoing challenge. To increase this transparency with our supply chain, we have worked hard to get certified on our standards to protect humans, animals and the planet and are also currently pending our B-Corp certification."
THE ACE AWARDS 2023
Nominations are open for the 2023 ACE Awards! In its second year, the ACE Awards, brought to you by Planet Ark's Australian Circular Economy Hub (ACE Hub), will honour the achievements and success of trailblazers at the forefront of Australia's circular transition. Learn more about the awards here and submit your nomination today!